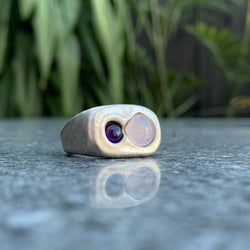 Leah Firth Jewelry
Rosy - Silver, bronze, rose quartz, amethyst ring
So I've kind of made my own alloy here.  It's half sterling silver and half yellow bronze.  The effect is a subtle yellow undertone.  
Wide shoulders (1 cm) tapering to the back (0.4mm) band is about 0.2mm thick.  All measurements are approximate as they vary slightly.  This is in keeping with the brand ethos of perfect imperfection.  I go for organic and fluid.  Not exacting and structured. 
Rectangle face is 1.4 x 2cm.  3mm thick.  
A 9mm rose quartz cabochon and a 6mm amethyst cabochon are set on the top.  In a way that suggests they have been dropped in the metal.  Rather like stones being dropped in the water.  A few waves or ripples are visible on the surface.  
This ring has an 18mm inner diameter which makes it a size NZ P.  A nice weighty 16gm of metal.