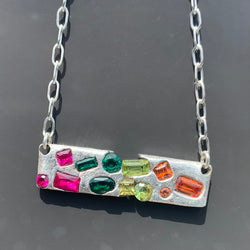 Leah Firth Jewelry
Neon Bar - Silver and synthetic sapphires and emeralds bar pendant necklace
The pink stone decided to slip to the edge. All the middle stones clustered together during the pour. That's why I love this technique so much. You get what you get! And what you get is super bright and playful.
3.3cm long x 9mm high x 2mm wide.  12 x synthetic sapphires and emeralds in various shapes and colours. 
Hung on a silver medium oval link chain and findings.