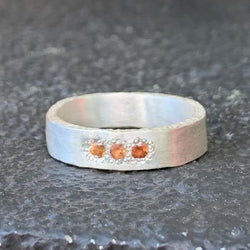 Leah Firth Jewelry
My Business - Sterling silver sapphire ring
So this ring has three orange sapphires (2.5mm) bead set into the side.  How sweet. 
The inside of the band and the face is smooth.  Lovely.  (5mm wide)
But the edges are jagged and irregular (won't hurt you).  (1mm - 2mm)
Why?  Because you are not one thing.  And what you choose to be at any given moment is your business.  
May this ring help you be true to yourself.  Not unkind but self expressed.  
Can a ring do that?  I think so.  It's like a visual affirmation/metaphor.
Size NZ P