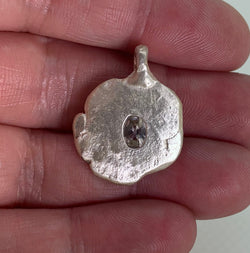 Leah Firth Jewelry
Moonlight - Sterling silver and CZ pendant necklace
Do you love the moon?  I do.  I say hi often, have a chat, the moon is such a good listener ha.  
This solid sterling silver pendant has a large clear cubic zirconia 7 x 5mm in the middle(ish).  I've cast the stone in place and then kept the texture on the surface of the pendant. Plus any lines or wiggles that formed during the process.  The moon has interesting hollows and curves and so does this. 
The back is smooth and I can hand it on a chain to the length of your choosing.  
2.5 x 2cm size