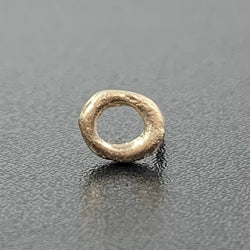 Leah Firth Jewelry
'Hug' circle gold - 9k gold stud earrings
You can see a lot of detail with the picture blown up like this.  At actual size (7.5mm x 6mm oval, 1.9mm x 1.4mm wire) you see the lovely curves and that it's textured but it's subtle. 
Attached is a 0.8mm 9k gold round pole at about 0.9mm long.
Each stud comes with a splay back butterfly clip.