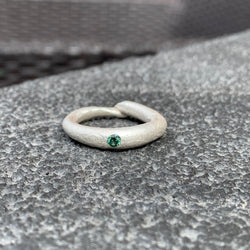 Leah Firth Jewelry
Hold On Sweetie - Sterling silver & sapphire ring
I've named this ring 'Hold on Sweetie' because the overlap at the base reminds me of holding ones own hand.  Kind of telling yourself, or reminding yourself, that you've got this.  You've got you.  Does that make any sense?  
The band has gorgeous round sides, covered with interesting pits and wrinkles.  It isn't a perfect circle.  Nor is the curve symmetrical.  
A weighty 8gm of sterling silver and a natural mid green sapphire 3.25mm.  I have flush set the stone into the band and left it alone because it's such a pretty stone. 
This ring here is a size US 5.5.  If this isn't your size I can make another one for you.  It will be similar but not exactly the same.