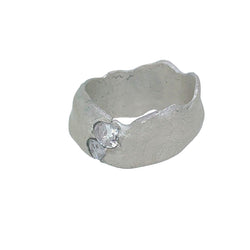 Leah Firth Jewelry
Couple Goals - Sterling silver & cubic zirconia ring
In my work I like to support, encourage, set up, inspire but never constrain.  So what happens during the process is allowed to happen.  I don't criticise or punish a piece if there's a bump or curve... I celebrate it!  And yes, this is all a metaphor for how I (try) to conduct myself in life.  
In this instance, the two cubic zirconia's just happened to bump into each other, width way across the band.  Love it!
Wobbly solid sterling silver band.  Finished in a dull matt.  US size 6.5 
My work is all handmade by myself and each is a one-off.  Another can be made, in your size, but please be aware that while yours will be similar to the ring pictured, no two can be identical.