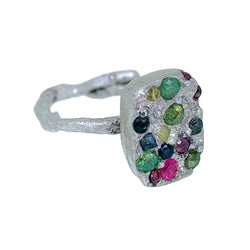 Leah Firth Jewelry
Can't Take My Eyes Off You - Sterling silver & multi-gemstone ring
Fifteen twinkling gems cast in place or bead set into solid sterling silver, thick, rectangular top.  Organic, twig-like, band.  
The gems are a mixture of natural and synthetic, square/oval and round.  Some are face-up, on their side, tilted.  Two of the larger green stones have cracked in the heat but I don't think this detracts from the ring's overall effect. 
Approx. US size 7
My work is all handmade by myself and each is a one-off.  Another can be made, in your size, but please be aware that while yours will be similar to the ring pictured, no two can be identical.