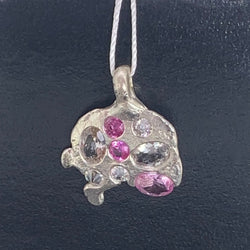 Leah Firth Jewelry
Calming - Sterling silver and synthetic sapphire pendant
There's just something about this one that makes me go 'Ahhhhhh'.
Maybe it's the sweet pink synthetic sapphires combined with the clear cubic zirconias.  The metal lapping the stones and finishing around the edges like little waves.  One of the stones is upside down.  Can you spot it?
Just 19mm is diameter (though only 2/3rd has come out). Solid sterling silver.  8 x quality synthetic gemstones in pink and white in various sizes and shapes. 
A 2mm hole at the top to thread your chain.  I can assist you with this if you like. 
All have been cast-in-place.  This process allows the stones to sit as they may and the metal to go where it wants.   The technique epitomises the 'go with the flow' ethos of the brand. 
There is no way I can recreate this.  There is only one.