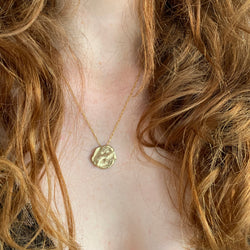 Leah Firth Jewelry
Blood Moon - Solid 9k gold large pendant necklace
Inspired by the recent blood moon (I love the moon, there's just something about it). 
Not perfectly circular (19mm) not perfectly shinny (dips and bumps creating valleys and shadows).  Weighty 8gm of the noble metal gold.  
Held secure at the back with a sterling silver brace and matching balance piece.  This ensures the clasp doesn't move (personal peeve - I don't like it when the clasp wiggles it's way to the front) and that the pendant sits flat. 
Strung on a 22inch gold plated fine oval link chain and clasp. 
Each mould is original and destroyed in the process of casting.  So while your version will be similar no two pendants can be exactly the same.