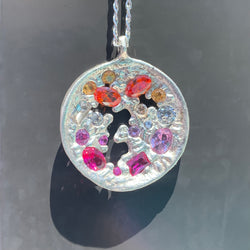 Leah Firth Jewelry
A.maze.ing - Silver and synthetic sapphire pendant necklace
Truly one-of-a-kind.  And 'yes' the gaps are on purpose.  Not that I could dictate what I would get in the end but I did hope.  This is in line with the brand ethos.  Do you also need to do your best and then let things be as they are?
Art, metaphor, affirmation?  Ahh the power of jewelry.  
This medallion is quite large at 3.5cm with a slight curve.  And a weighty 10gm of precious metal.  16 x synthetic sapphire gemstones of differing colours, shapes and sizes.  
Silver chain to 27cm drop, this can be changed if desired.