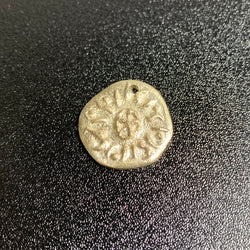 Leah Firth Jewelry
Star - silver/bronze alloy pendant necklace
I wonder if I was a jeweller way back in another life because I'm continually drawn to olde looking pieces.  I love the rustic look of an organic band and imperfect setting. 
This series of pendants draw on this inspiration and also my love for the moon/sun/the whole universe. 
This example has a circle and star feature in the centre.  Around the edges are flickering bursts of flames. 
20mm r x 2mm t.  Each will come strung on a bronze chain (length of your choosing) and findings. 
Due to the higher copper content in the bronze the oxidation process will be quicker with this alloy.  You can choose to enjoy the changes or you can bring back the golden effect by cleaning it yourself from time to time.