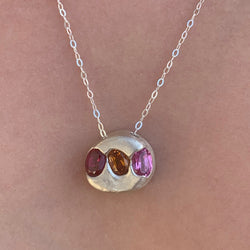 Leah Firth Jewelry
Secret Admirer - Sterling silver, sapphire and ruby pendant necklace
This is mesmerisingly pretty.  Three large synthetic gemstones (7x5mm) pink sapphire, red ruby, yellow sapphire.  The back of the pendant has been hollowed out to allow the light to catch some of the stones.  
The sterling silver pendant itself is approximately 18mm x 14mm x 8mm.  Hung on an oval link sterling silver chain, this can be changed to any length you like, just another perk of buying handmade!
There is only one available.