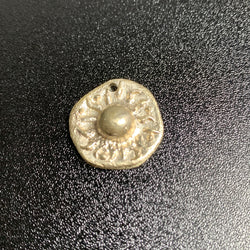 Leah Firth Jewelry
Light - Silver/bronze alloy pendant necklace
I wonder if I was a jeweller way back in another life because I'm continually drawn to olde looking pieces.  I love the rustic look of an organic band and imperfect setting. 
This series of pendants draw on this inspiration and also my love for the moon/sun/the whole universe. 
This example has a prominent bump in the centre.  Around the edges are flickering bursts of flames. 
20mm r x 2mm t.  Each will come strung on a bronze chain (length of your choosing) and findings.