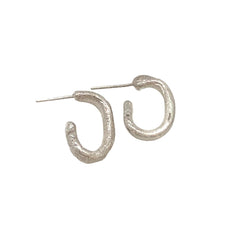 Leah Firth Jewelry
Huggies - Sterling silver earrings
Organic, wobbly hoops.  I make these earrings in a soft mold and then let the casting do as it wants.  These are quite small and literally 'hug' the ear lobe.   
19mm x 12mm oval.  Solid sterling silver. 2mm w.  I've attached 0.8mm sterling silver posts at 1cm long.  Comes with two sterling silver butterfly clips for the back. 
Finish is a brushed matt so the colour is slightly duller.